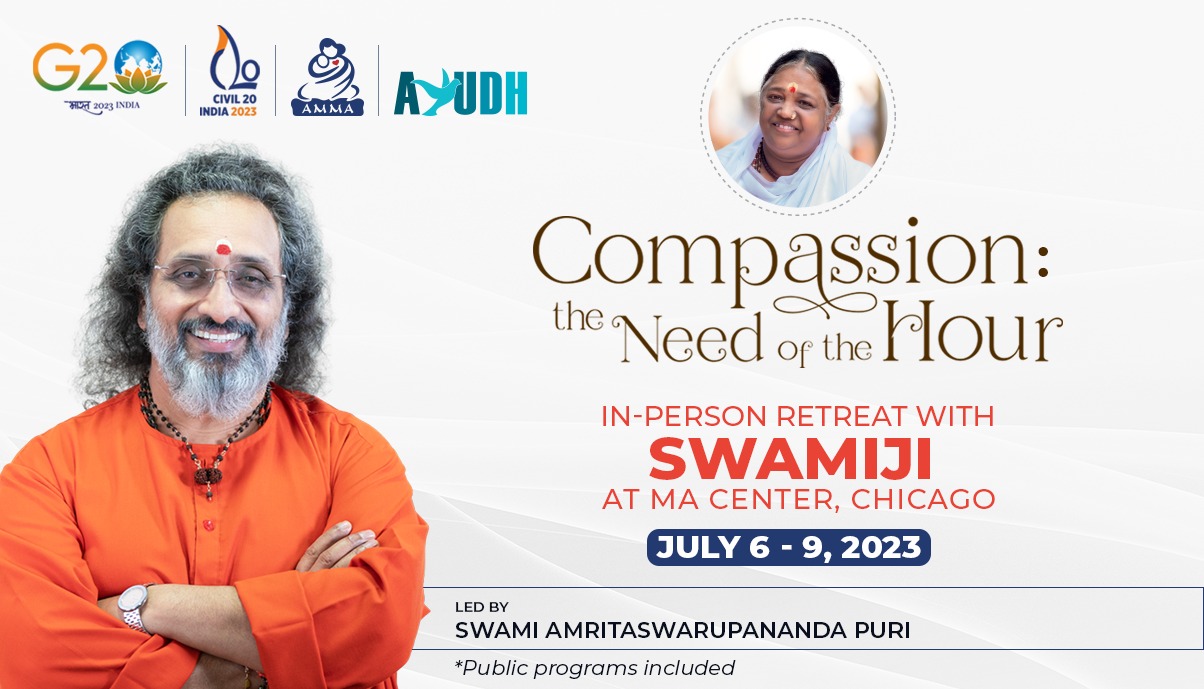 Compassion: The Need of The Hour
In person retreat with Swami Amritaswarupananda Puri at MA Center, Chicago
Thursday – Sunday, July 6-9
Save the date! We are pleased to announce that Swami Amritaswarupananda Puri will be leading a 4 day retreat at MA Center Chicago: "Compassion: the Need of the Hour" July 6-9. This in-person retreat will include spiritual talks, Q&As, yoga, bhajans, meditation, AYUDH youth segments, and a C20 Symposium which will include special guests & interactive workshops. Detailed schedule coming soon.
We're thrilled about this rare opportunity to have Swamiji with us in-person and eagerly look forward to your valuable participation. We'll be sharing accommodation and transportation details with you very soon.
Make sure to check back here for the latest, up-to-date information.
Registration is coming soon.
Testimonials from past retreats
It was a very overwhelming and humbling experience. Through the talks I was able to begin to identify what I need to surrender
I loved it all! Very practical advice that can be followed and understandable–It gave me peace. I felt loved and therefore it gave me encouragement that came at the right moment. For me, the talks were given with a lot of heart. There was such tenderness that came across.
I was sad because of the pandemic with no Amma in U.S. and no retreats. The retreat had the feeling of our U.S. retreats with Amma
I enjoyed the clarity of Swamiji's explanations and his strong conviction, which helps us to increase our own faith and determination. Listening to Swamiji increases the feeling of Amma's presence within us.
I thought Swamiji's talk about happiness being within our own consciousness was presented as a concept that is both revolutionary and easy to digest. It captured my soul.